Aroha for Ukraine Book Launch Event
Можливо, дехто з вас пам'ятає наш проект Ароха для України.
Ми раді нарешті оголосити презентацію нашої фізичної книги в Окленді 12 Серпня, та запросити всіх, хто зробив внесок у проект і надіслав нам свою АРОХА (любов), а також нашу українську громаду в Новій Зеландії та ново-прибульців з України.
Будь ласка, зверніть увагу, що реєстрація є обов'язковою через обмежену кількість місць.
Ми плануємо роздати книги новоприбулим, промови і привітання від почесних гостей, страви, музичні українські виступи, а також ігри та дитячі заходи… Тож приєднуйтесь всією родиною.
Ласкаво просимо принести страву до спільного чаювання за бажанням.

Community Webinar - Ukraine Health Initiative
Te Whatu Ora – Health New Zealand and the Ministry of Health, alongside Mahi for Ukraine, invite you to attend a community webinar on the free health check available for all Special Ukraine Visa holders in New Zealand.
Presentation:
A short video presentation by Dr. Olga Dubnytska (a Ukrainian GP in Palmerston North) on the free health check will be delivered in Ukrainian,  and followed by a Q&A session with Dr. Olga.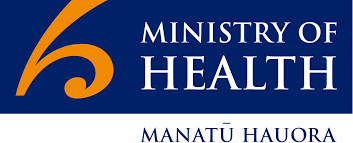 Intended participants: All Special Ukraine Visa holders and their sponsors.
Date: Thursday 1 June, 2023
Time: 7.00 pm to 8:00 pm (NZ time)
Where: Online Zoom meeting

Auckland Vyshyvanka Day 2023
Each third Thursday in May 

we celebrate World Vyshyvanka Day. 
In Auckland we commemorated the day of Ukrainian traditional embroidery by wearing it proudly, singing songs about vyshyvanka & taking some photos with our local community!
If you have a Vyshyvanka – this is the day to flaunt it
Archeological discoveries in Ukraine indicate that embroidery has existed there since prehistoric times, it dates back to the Neolithic–Eneolithic Trypillian culture. The elements of ornaments used by Trypillians, Sarmatians, and Scythians are found even in the modern national embroidery.
Among the earliest are the finds dated to the 6th century, found in Cherkassy Oblast, one of the silver plates depicts a man dressed in long, wide patterned shirt with embroidery on the chest. The Ukrainian peasants wore the same clothing just a century ago.
Cloth embroidery was first inspired by faith in the power of protective symbols and later by aesthetic motives.
In a country with a history marked by foreign invasions, embroidery has been "symbolically linked to national identity and unity," said Dr. Oksana I. Grabowicz, an anthropologist and research associate at the Ukrainian Research Institute at Harvard University.
Vyshyvankas have been festal clothes for Ukrainians all over the world for a long time, nevertheless, Vyshyvanka Day emerged as a holiday not long ago.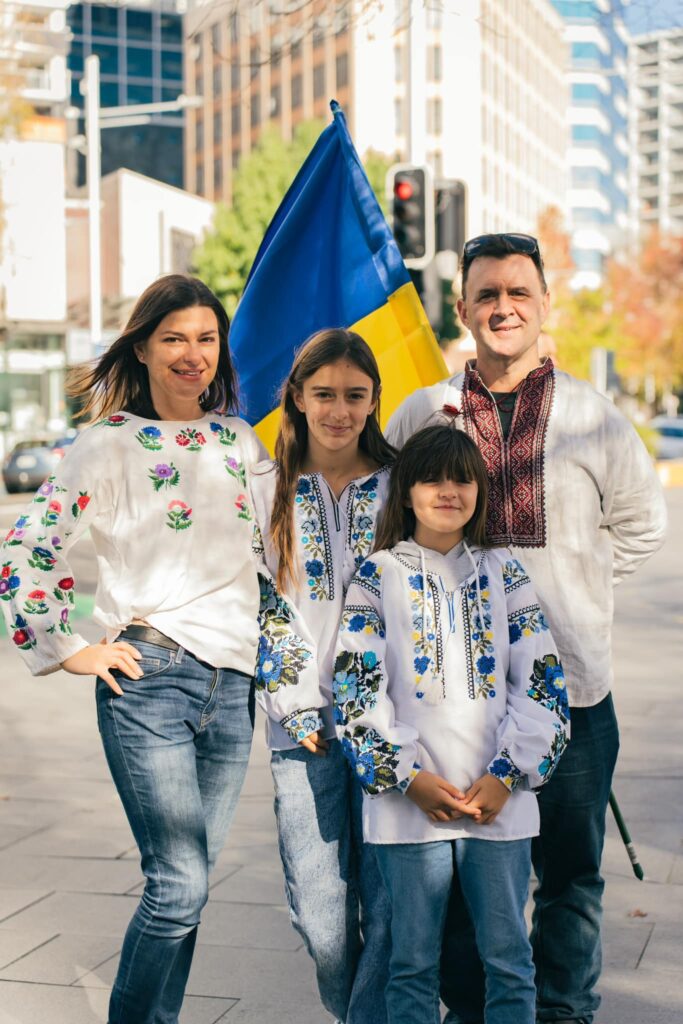 The first Vyshyvanka Day was celebrated in 2006 in the city of Chernivtsi.
Started by a local student.. "I have come up with the idea when I noticed that not I alone but also other students often wore vyshyvankas attending classes. But it never happen that we all did it together. So I suggested to everyone one day to gather at the university in embroidered shirts on the same day. For the first time several classes of students took part in the event," explained Ukrainian poetess Lesya Voronyuk, who came up with the idea.
At first, Lesya's initiative was picked up by several students and teachers, but during the next few years, the festival gained all-Ukrainian scale, the diaspora and supporters of Ukraine joined in as well. Today, in general, this initiative is supported in at least 60 countries around the world.
The World Vyshyvanka Day does not have a fixed date; it is celebrated annually on the third Thursday of May. Thursday was not chosen randomly. Its founders insisted that the holiday fall on a working day, instead of the day off.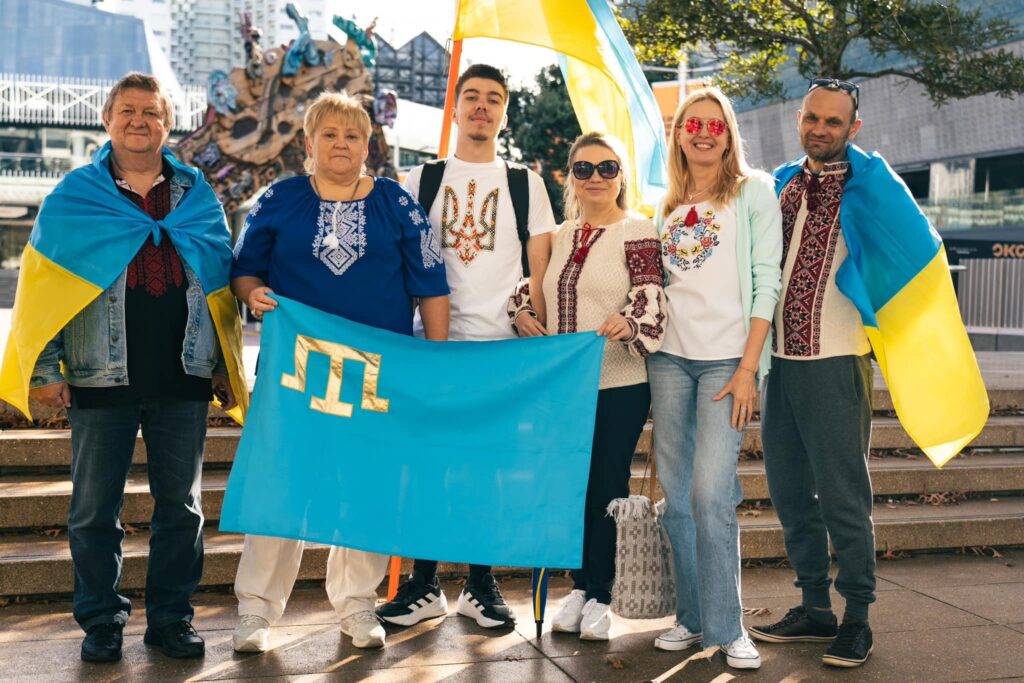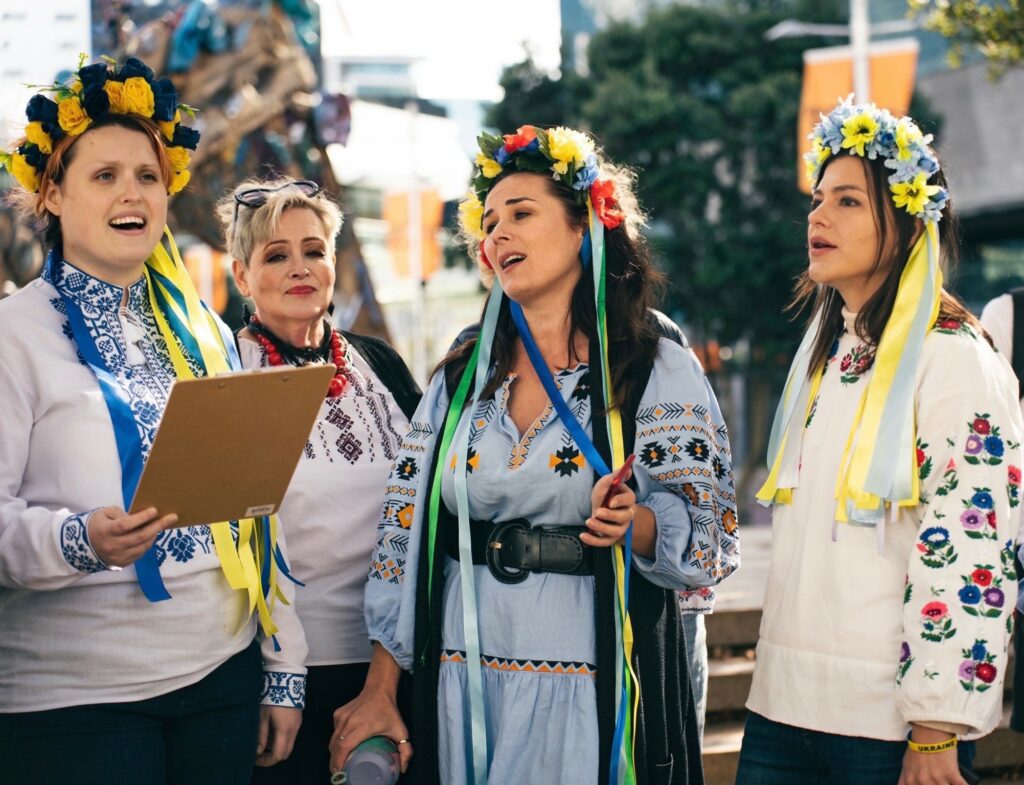 The purpose of the holiday is to preserve and popularise folk traditions of creating and wearing embroidered Ukrainian clothes. It does not have any obligatory requirements, except for putting on the vyshyvanka.
However, annually the number of events timed to this day is growing; there are concerts, parades, competitions, events and fairs on the initiative of students, professors, public and cultural groups or figures.
Today as russia continues to wage its war on Ukraine, Vyshyvanka Day has become a symbol of the resilience of Ukrainian culture and Ukrainian pride and beauty and antiquity of its traditions.

Light Will Win Over Darkness - '365 Days'
Auckland vigil
February 24th marks a year since Russia's full-scale invasion of Ukraine in a war that has persisted for nine years. The Kremlin orchestrates hostilities, violating all possible norms of international law. The brave Ukrainian people are defending themselves and the whole world at the cost of their lives. Ukrainians hold back an insane aggressor who threatens to turn the planet into nuclear waste. 
We call on Ukrainians and friends of Ukraine in Auckland to jointly support Ukraine and our #LightWillWinOverDarkness candlelight vigil dedicated to the 365 days of full-scale Russian invasion and nine years of Russian war against Ukraine.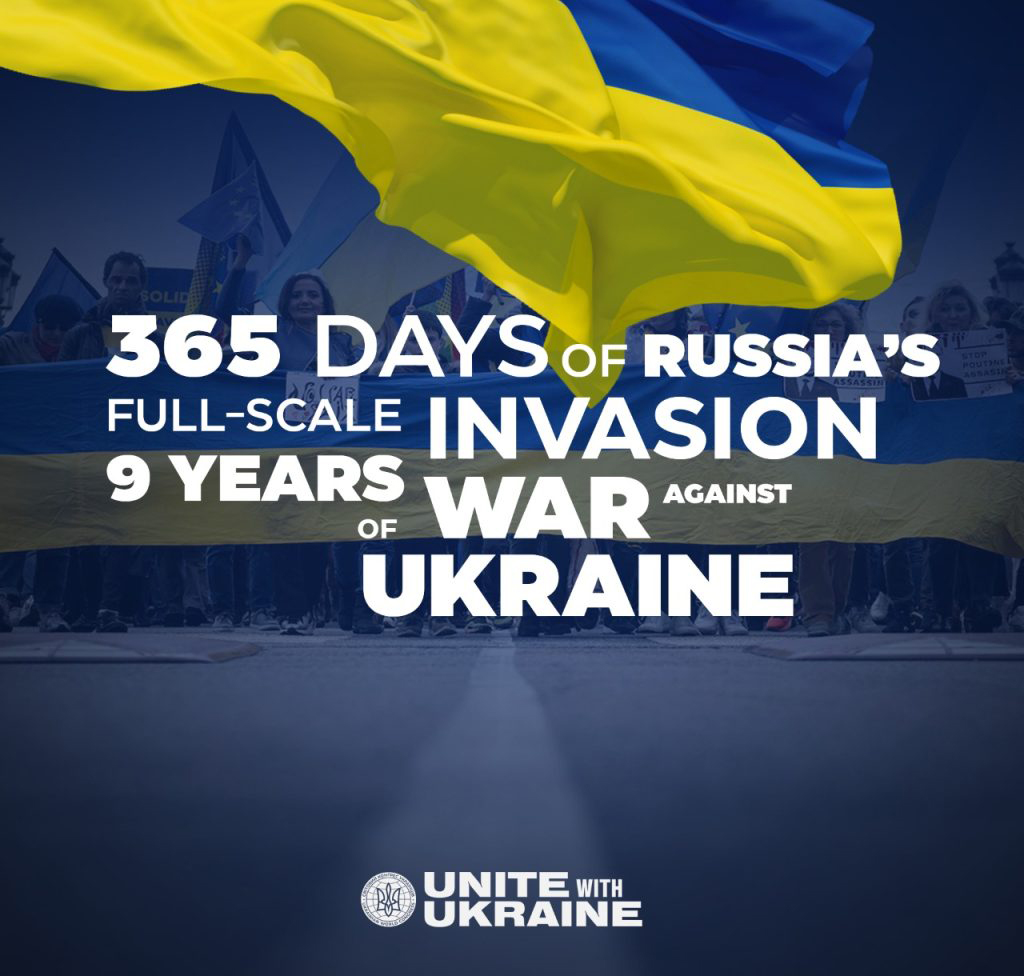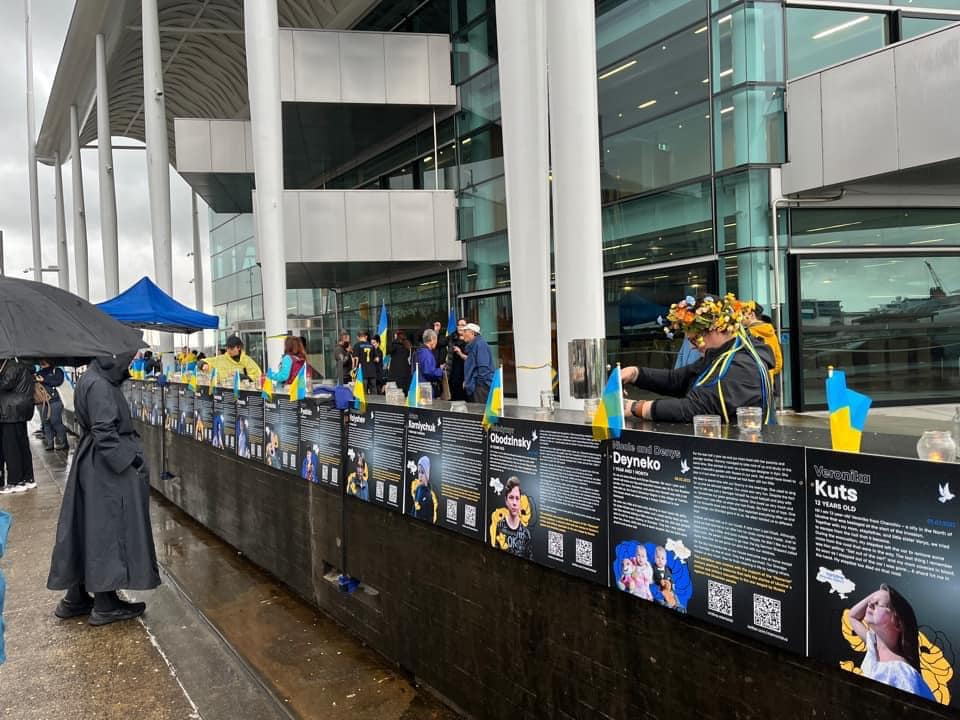 LET'S UNITE WITH UKRAINE AND FOR UKRAINE ON 24/02!
                     WHERE: Wynyard Steps at Karanga Plaza                       (by Wynyard Crossing)
WHEN: Friday 24 Feb, 2023, from 6 pm
WHAT: The event format will be a vigil. Please wear black clothing and bring a candle as well as Ukrainian flags.

Advocacy Survey (archived)
If you are a Ukrainian living in New Zealand or a Kiwi with a connection to Ukraine – we need your help!
As a community, we are working closely with the NZ Government and continue to advocate for help to Ukraine and its people in these unprecedented times.
This is our second survey aimed to assist with our advocacy for the Special Ukraine Visa Policy changes.
Please complete this survey regardless of whether you have already applied for the Ukraine Special Visa/ whether you are eligible to apply or not/ and whether your family has arrived in NZ or not, or even if you are not planning to apply.
The survey will take approximately 4 minutes to complete. Once completed please share it with your Ukrainian friends.
Thank you!

Xmas Gift Donations for Refugees 2022 (archived)
With the silly season fast approaching, Mahi for Ukraine is organising a Xmas Picnic for the Ukrainian newcomers in Auckland with gift-giving, food, and some good old Kiwi Xmas summer vibes.
As most of our friends & supporters know, these newcomers (even though are called "refugees") are not technically considered refugees and as such do not receiv government support. This will be their first Christmas away from home, and we imagine that gift-giving is the last thing on their and their families' minds. So we wanted to show them some Aroha, and bring at least some normality back into their lives.
If you or your organisation would like to support this event and donate some gifts towards it, please contact us before Friday 16 December to coordinate this. Thank you for your generosity this holiday season!
And if you are a Ukrainian who would like to attend this event, please DM us on Facebook for event details (time and location).

Ambassador of Ukraine meeting with
Auckland Business Community (archived)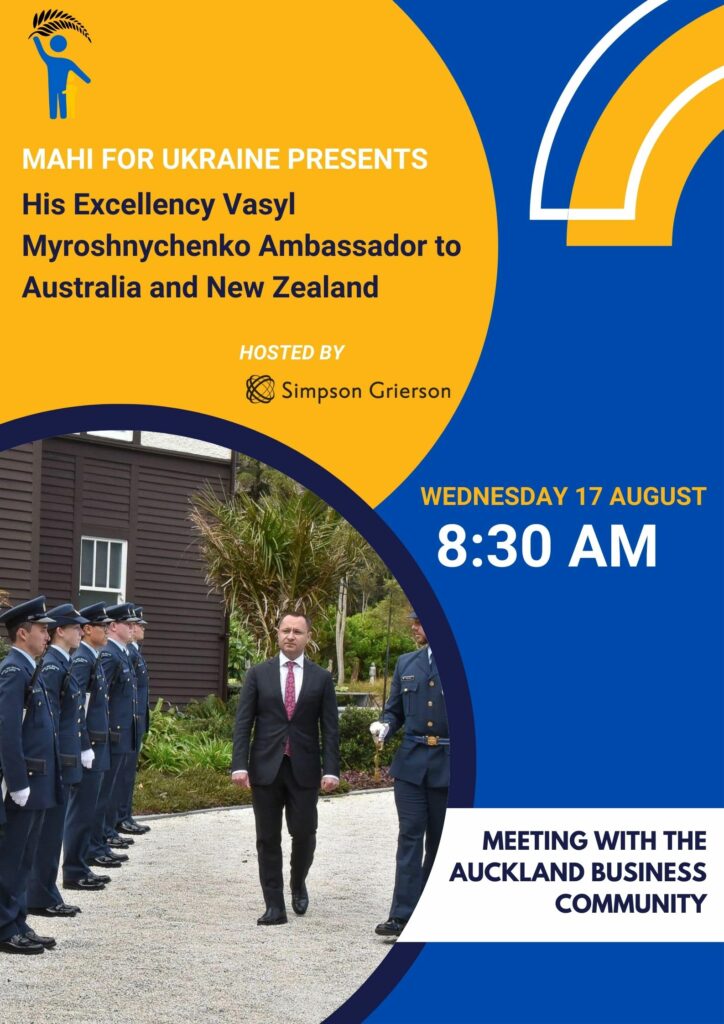 His Excellency Vasyl Myroshnychenko meeting with Auckland Business Community.
Presented by Mahi for Ukraine and hosted by Simpson Grierson.
His Excellency Mr. Vasyl Myroshnychenko, recently appointed Ambassador to Australia and New Zealand, makes one of his first public appearances in this country to meet with Auckland's business community on Wednesday 17th August, after presenting his credentials to Her Excellency The Rt Hon Dame Cindy Kiro.
The Ambassador will provide the Ukraine Government's latest appraisal of the war and the international community's response, along with the views on what the New Zealand Government and the broader public can do to help. He will also discuss Ukraine's bilateral relations with Australia and New Zealand, including military cooperation, trade, investment, culture, education, and the role of New Zealand's business in it, over tea/coffee light refreshments and networking.
Who should attend: the leaders and senior representatives of NZ businesses & chambers of commerce.