Aroha for Ukraine Book Project
Kia ora.
It's been a year since the New Zealand government announced the Special Ukraine Visa Policy for families of Ukrainian Kiwis fleeing from Ukraine after Russia's full-scale invasion. At that time, we asked Kiwi kids and young people to write messages of welcome and aroha that we could put into a book and gift to our new whānau. As a result, we received literally thousands of submissions! Watch this Sevent Sharp episode to find out more.
We are so grateful to everyone who contributed art, poetry, photos and messages. Your love and care is powerful and heartfelt. We wish we could have included them all in our book but there were just too many!
We have collated some of the submissions and they have been made into a book called "Aroha for Ukraine".
The e-book was launched on the 1 year anniversary of the Special Ukraine Policy – Wednesday, 15 March 2023.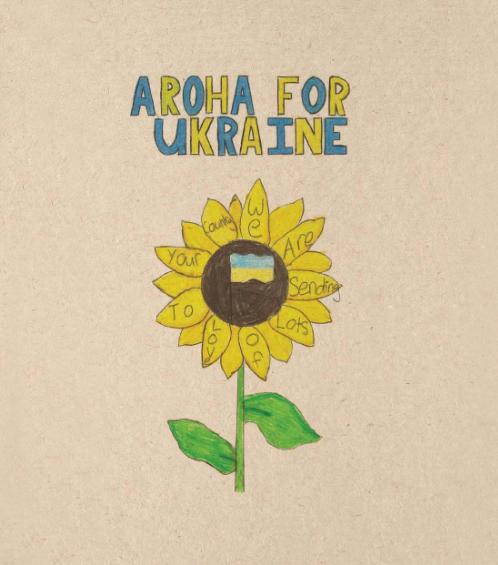 At the time of launch, we could only publish it as an e-book digitally, we have since fundraised to produce print copies that we can gift to the Ukrainian children and families who have come to New Zealand since the full-scale invasion in 2022.
Having printed the books with the help of the YourBooks Team, we hosted the book Launch Event (12/08/23) in Auckland.
Any additional donations to the project will go towards the book postage to Ukrainian families based outside of Auckland.
To donate please go to our Give-a-little page:
If you are a Ukrainian who has arrived in NZ after 24 Feb 2022, currently based outside of Auckland, and not able to attend                our launch event in person – you can request a free copy of our book to be posted to you via the form below.                 
You can contact us about this project or send some Aroha via aroha@mahiforukraine.com
or by post at: Mahi for Ukraine, PO Box 106818, Auckland, 1143, New Zealand